County Graphics Online Digital Print Center is like having your own in-house print department without the overhead or hassles of managing a staff. We provide you with a virtual offsite print solution - and you receive higher quality materials, better service and faster turnaround times - all for a much lower price!
From collated reports and flyers, to training manuals, annual reports, educational materials and presentation packages - you can count on County Graphics to get your job turned around in record time. We do the highest quality, black & white and color copies, one sided or two.
You can easily upload your files or we can pick up materials at no additional charge. We can reprint your materials, update or redesign them. Whatever your needs are, County Graphics offers the easiest most cost effective solutions - with a smile. Everything is printed as it's ordered so there's no inventory to worry about. We also offer free desk-to-desk delivery. Efficiency is our motto. Most files can be printed and shipped within two (2) business days.
Digital Print Center Services
At County Graphics, we have a proprietary system to keep track of the jobs your business is printing. This eliminates duplication of printed materials that may already be inventoried. These are just some of the jobs we handle:
Company Directories
Flyers
B&W and Color Copies
Training Manuals
Brochures & Booklets
Annual Reports
Educational Materials
Presentations
Large Format Posters, Banners & Signs
To order Digital Printing

To request a User ID
CLICK HERE
Need help? Call 908-474-9797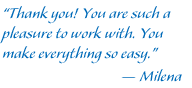 © 2010 County Graphics, Forms Management, LLC • 2 Stercho Road • Linden, NJ 07036 • 908-474-9797